 Our product is built in Cape Town, South Africa by a company with 2 generations of off-road motorhome building.
WHY? Because they have the exceptional experience of building beautiful motorhomes that stay together whilst travelling some truly extraordinarily rough roads.
From our side, with over 10 years of designing overland expedition vehicles for the Australian market coupled with 300,000Kms of extensive use of such vehicles it was an ideal collaboration of ideas and expertise.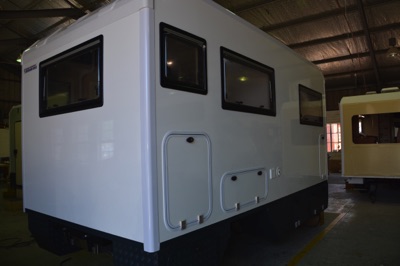 The second 2 of our initial production run of 10 are finished.
The next 2 are already under construction
Loaded into a shipping container and upon arrival in Brisbane they are fitted to new Fuso 4x4 Canters.
Large windows all round, Cabin access to the vehicle, Electric assess steps, Insect screen at front door and on all windows.
38MM foam core insulation for our Ozzie heat and those cool nights, and an extractor fan to vent air in or out of the module.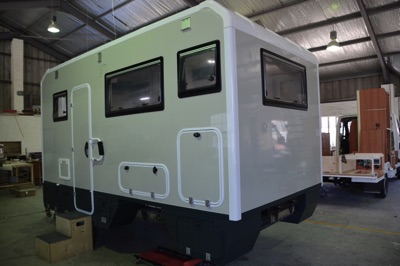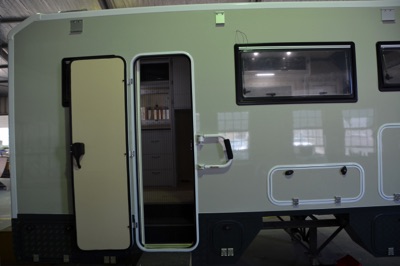 One has to agree, the full height bathroom is both practical and rather beautiful.
A good shower, separate wash basin, chemical Thetford swivel toilet, storage cabinet, and all easy clean.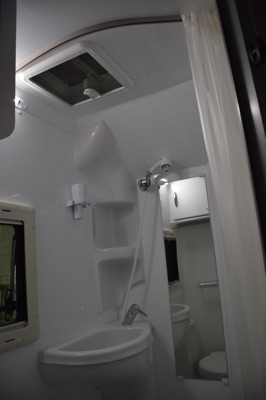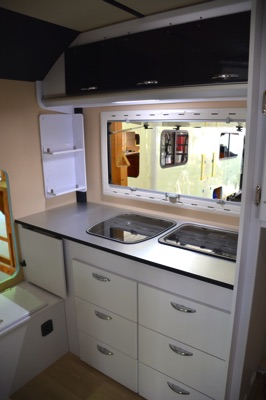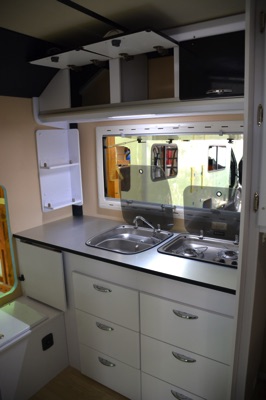 The kitchen area has significant storage. 3 overhead cupboards, 6 drawers, and more storage in the floor unit at the cabin access.
The 2 burner gas cooktop is now replaced with a Diesel ceramic cooktop.
To the left the return lifts up providing an increase in the bench top.
The grand relaxing area suitable for up to 5 adults or just laying back with a good book.
In just moments this area converts to a full size double bed, yet still there is space for 2 to sit.
Bed size is 2050 x 1400 wide.
The 116 Lt refrigerator is supplemented by a 30Lt freezer.
Comfort is provided by a Diesel air and water heater.
Significant storage is available in the full length overhead cupboards and under the seats.
All the seat material is fully removable and machine washable.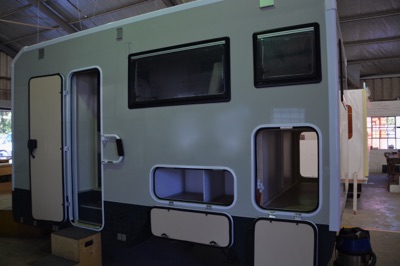 You will not believe the amount of storage we have achieved.
Full width under the bed storage, external access below the seating areas on both sides, and 5 alloy under body storage lockers
As Container arrives the module is unloaded and swing lifted directly onto the host vehicle